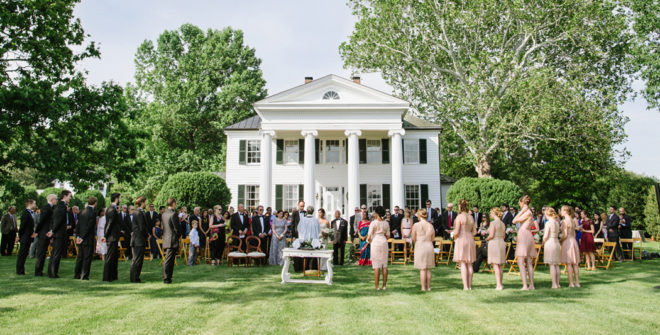 Seven Oaks Farm in Albemarle County has quite the history. From its original owner, Reverend Samuel Black, the first Presbyterian minister in Albemarle County, to a more recent owner, Dave Matthews Band manager Coran Capshaw, the property has had its share of high-profile tenants. And visitors, too: from explorers Meriwether Lewis and William Clark to Gibson Girl Irene Gibson, the farm has plenty of famous footprint.
Now it's adding a new chapter to its colorful past: Couples can rent it as a wedding venue. The sprawling 100-plus acres in Greenwood offer a Greek Revival-style manor, pool house and breathtaking mountain views.
Owners Sarah and Todd Zimmerman bought the property from Capshaw in 2014. Both are UVA grads (and their son is a rising third-year), and say they appreciated its rich legacy.
"It's got a lot of ties to UVA," Sarah says. "When Reverend Black sold it, it went to the first bursar of the university, Alexander Garrett. We fell in love with its history, the views, the grounds—and we loved the vineyard."
Oh yeah, there's a vineyard, too. Its seven acres boast Merlot, Cabernet Franc, Petit Verdot, Syrah and Viognier grapes. The Zimmermans plan to expand it to include an on-site winery and tasting room, and those visions really spurred the couple's decision to purchase the property. The idea of using it as a wedding venue didn't come until after they'd become owners, but it seemed to be a natural fit.
"Our plan was to start a winery, but then we got a lot of inquiries about having a wedding," Todd says.
And just like that, a new Charlottesville-area wedding destination was born. The pair converted two rooms in the circa-1842 manor house into a dressing suite for bridal parties and made a few other minor modifications, but they say the property's picturesque qualities make it ideal just as it is.
Several private events have been hosted on the grounds but only two weddings have been held here so far (see one on page 46), with two more planned in 2016. The Zimmermans are careful not to overbook, and they provide brides carte blanche. For a $10,000 venue fee, a couple has complete use of the grounds for a full weekend.
"You can customize it as you wish, and we don't schedule more than one event per week," Sarah says, "which means a bride has the luxury of access from Friday through Sunday for setup and teardown without rushing. We don't push people out to get someone else in."
Brides need to bring in everything from chairs to caterers, but the Zimmermans are willing to accommodate some pretty special requests, like one bride's father, who wanted access to the property a month before the wedding so he could bury a bottle of bourbon there for good luck. Another couple asked if they could prepare one of the farm's estate-raised Pekin ducks to serve at the rehearsal dinner. That flexibility is part of what makes the Zimmermans, and Seven Oaks Farm, special.
Says Sarah, "We're a blank slate."